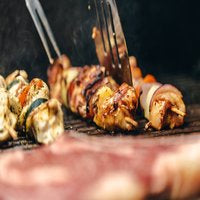 Just in time for the holiday weekend, I had the opportunity to see Check Eric Adjepong on Good Morning America and I just tried several of his recipes.
During the show, Top Chef Eric Adjepong showcased several easy to follow recipes. See Video link - 
https://abcnews.go.com/GMA/Food/video/eric-adjepong-shares-recipes-pop-picnic-71572070
They were easy to follow and was a big hit with family and friends.  I have to admit, I substituted regular grocery store hot peppers for the bonnet peppers, and I just used scallions instead of spring onion bulbs. Give them a try and let me know how it works out for you.
Jerk Paste
Chicken Kabobs
Roasted Fingerlings and Tomato Salad with Sweet Berbere Glaze
Jerk Paste:  (Chef Eric Adjepong)
Ingredients:
1/4 cup of lime juice
1/4 cup of dark soy sauce
1 orange rind
2 tablespoons fresh ginger, roughly chopped
8 cloves of garlic, roughly chopped
1/2 red onion, chopped
3 spring onions bulbs
2 tablespoons of thyme
2 to 4 scotch bonnet peppers
1 teaspoon pimento seeds (whole allspice)
1 teaspoon black peppercorns
1 teaspoon coriander powder
1 teaspoon cumin powder
1 teaspoon cinnamon powder
1/4 teaspoon clove powder
1 teaspoon salt
1 teaspoon brown sugar
2 teaspoon olive oil
Directions:
In a high-speed blender or food processor, add all ingredients except oil. Process on high, slowly drizzle in oil. Season with more lime and salt to taste. Store in a container with a tight lid for up to 2 weeks.
Chicken Kabobs: (Chef Eric Adjepong)
Ingredients:
4 boneless, skinless chicken breasts
1 tablespoon melted butter or olive oil
1/2 teaspoon freshly cracked black pepper
1/2 teaspoon garlic powder
Directions:
Quickly cure the chicken by filling a large bowl with 1 quart of warm water and 1/4 cup kosher salt.
Stir to combine until most of the salt is absorbed. Add the whole chicken breasts and let them sit in the mixture to brine for 15 minutes or up to 6 hours.
Preheat the grill to medium-high heat. If using wooden skewers, soak them in water for 15 minutes before using. Cut the chicken breasts into 1-inch pieces.
Add them to a large mixing bowl and add enough jerk paste to coat evenly. Allow to marinate for 15 minutes or overnight. Coat evenly with the olive oil.
Once the grill is hot, place the chicken kabobs evenly on the grill. Cook for 10 to 14 minutes, turning once halfway through, brushing another layer of the jerk sauce on the chicken.
Transfer the kabobs to a clean plate and loosely tent with aluminum foil. Let the chicken rest for at least 5-10 minutes. Then serve warm.
Roasted Fingerlings and Tomato Salad with Sweet Berbere Glaze (Chef Eric Adjepong)

Ingredients:
2 pounds fingerling potatoes, cut lengthwise
⅓ cup fresh lemon juice
2 teaspoons Kosher salt
6 tablespoons of unsalted butter, divided
Flaky sea salt
1 1/2 lbs of heirloom tomatoes
3/4 cups honey
2 tablespoons of berbere
1 bunch of shallots, minced
1 bunch chives, chopped
Directions:
In a small pot over medium low heat, warm the honey until it's loose and less viscous. Wisk in berbere and shallots and continue to cook for an additional 2 minutes.

Slice tomatoes in quarters and salt. Place over paper towels.

In a large straight-sided skillet or a Dutch oven, combine potatoes, lemon juice, kosher salt and 3 tablespoons of butter.

Add cold water just to cover, then bring to a boil over medium-high heat and cook until potatoes are tender, 20 to 25 minutes. Increase heat and boil rapidly until the pan is almost dry, 15 to 20 minutes more.

Using a slotted spoon, transfer about half of the potatoes to a plate and arrange potatoes remaining in a skillet cut-side down in a single layer (you may need to work in a few batches).

Reduce heat to medium and cook potatoes undisturbed until water is evaporated and cut sides of potatoes are deeply browned, 5 to 10 minutes.

Scrape the skillet using a thin metal spatula, to cleanly release potatoes and transfer to a large bowl. Return skillet to medium heat, add 1 tablespoon of butter, and repeat the browning process with reserved potatoes.

After scraping the skillet to release potatoes, return the first batch, along with the remaining 2 tablespoons of butter to skillet and toss until potatoes are well coated.

Drizzle tablespoons of the berbere honey until well coated.

Add salted tomatoes, garnish with chives and sprinkle with sea salt.
Full article can be found here: here: https://www.goodmorningamerica.com/food/story/top-chef-star-eric-adjepong-shares-recipes-top-71555514
**To purchase berbere - click here: 
https://www.redgingerspices.com/collections/feature/products/berbere