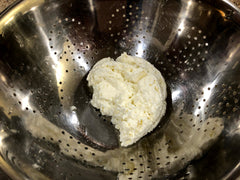 Ayib is a fresh Ethiopian cheese that is actually pretty perfect to balance out a spicy meal. Sometimes, people use sour cream or plain yogurt to balance out the spices.
However, the perfect pairing is really make Ayib. 
I have had it served with Kitfo, or collard greens, but it is also just good on the side of any berbere based meal.
So, with Covid, I have been cooking a lot more at home and trying new things.
I have started to follow Adane on Youtube.
She is pretty amazing.
Her is her link to her Ayib recipe- https://www.youtube.com/watch?v=AC3KDTuHEr0
Her website is: howtocookgreatethiopian.com
However, I just tried to access it and had problems. Not sure what is going on with that.
In any case, her recipe was pretty easy, and it came out really good.
I like this recipe because it was simple and did not require any special equipment.
I did not need to use Vinegar, not did I need a cheesecloth or anything special. I just used a strainer/colandar.
Here are a few of my pictures:
started with 1 quart of Cultured Buttermilk
simmered on low
after about 40 minutes, you can see the water separated
I let it cool on top of another pot that contained cold water. I only did this, like her, to speed up the cooling
here is the final product, draining in my colandar, and ready to eat
the quantity was small enough to finish in 1 setting with my family.
Good Luck. Share you pictures as well.
Thanks