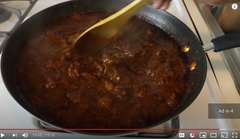 In the last blog, I introduced you to Adane.
Here is another recipe that came out really delicious!! Really, really.
Tibs Wet.
Her instructions can be found here:
https://www.youtube.com/watch?v=4vkc9P57g5M
Here is what my process looked like.
I used the same spice combination, but made 2 dishes.
One with Beef and one with chicken.
Here is a picture of the 2 pans cooking.
Sorry, no pics of the finished product, I got too busy serving and eating :)
I served them with salad, yellow peas (Kik Alicha), and the Ayib (ethiopian cheese).