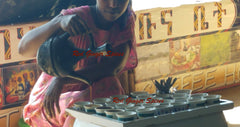 We are pleased to announce that we now offer Ethiopian Sidama Single Origin Coffee. 
Coffee is not rushed in Ethiopia. Not so much a grab and go product, but more of a drink to enjoy while you unwind and gather with family and friends. The Ethiopian coffee ceremony can be shared anytime (see article below).
Red Ginger spices, offers coffee, as well as coffee cups and the tray to have your own coffee ceremony at home.
Click here to See Article on Ethiopian Coffee Ceremony: