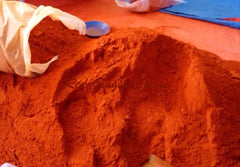 Berbere (Ethiopian Red Pepper) is my absolute favorite spice.
How do I use it?
I use it anywhere I would use red pepper.
I use it to season my meats. It is a spectacular addition to any meat rub.
I use a pinch of it in my spaghetti sauce.
I use a pinch of it in my macaroni and cheese.
And I use it as a side dipping sauce.

This is also referred to as awaze sauce
take 2 tablespoons of berbere
add 4 tablespoons of high quality olive oil
add a teaspoon of water
mix
set in a small bowl as a condiment to any meal. Especially good with meats.